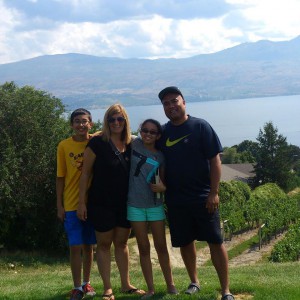 Thanks for taking the time to get to know me.  Above is a picture of me and my family taken quite a few years ago at a beautiful vineyard in Kelowna, BC (that's me on the far right).  I am married to my wonderful wife Leanne and we have 2 great kids (Nicholas and Mikaela) and we live in beautiful Maple Ridge, BC, CANADA.
I am a mature, responsible, and dedicated family man who takes pride in my work. I have learned over the years and from past experiences that two traits will always make me successful in whatever challenges and obstacles I pursue: commitment and persistence. Each of these traits along with a positive attitude drives me to be successful in all my endeavours.
J.O.B. Experience
Professionally, I am a Home Solutions Advisor (aka Digital Home Technician) with Telus Communications Canada and have been in that position since June 2021.  Also, as a "side hustle" I pick up a few shifts a week as a Skip-The-Dishes Courier.
Before joining Telus, I worked a very brief stint with Canada Post as a Temporary "On-Call" Letter Carrier.  In 2019 I spent a year as an Account Manager with a company called Kahunaverse Sports Group.  And before that I worked almost 8 years selling cars for West Coast Nissan in Pitt Meadows with the final 3 years working as their Internet Lead Coordinator.  I still have lots of friends in the industry and have helped a lot of people to avoid the "stigma" of the feeling of getting "ripped off"….. visit my site bigheadjoeautosales.com for some hepful info.
My goals for 2023
My online business goal for 2023 is to establish the building blocks for my BigHeadMarketingOnline.com businesss and I will generate $12,000 in total passive online sales in 2023.
My fitness goals in 2023 is to complete the 100km Tour de Victoria in late August, and in September I will complete the Cultus Lake Triathlon in 2 hrs and 29 minutes, and then I will finish the year by completing a Marathon (location yet to be determined) in 4 hrs and 59 minutes,
My health goal is I will weigh 167lbs on December 31, 2023.
Lastly, my personal/family goal in 2023 is to take my family to Maui, Hawaii for a nice relaxing Christmas vacation ! ! !
Multiple Streams Of Income
I am also looking to build passive online businesses that create multiple streams of residual income and will allow me more time freedom to enjoy life to the fullest.  If you share these same ideas then visit bigheadjoemarketing.com for some very helpful information.
Do You Have Any Feedback or Comments or Questions?
---
It's as simple as letting me know!!!  If you have any comments or feedback or need help with anything, please leave a comment below or you can get in touch with me inside of Wealthy Affiliate via my profile there.